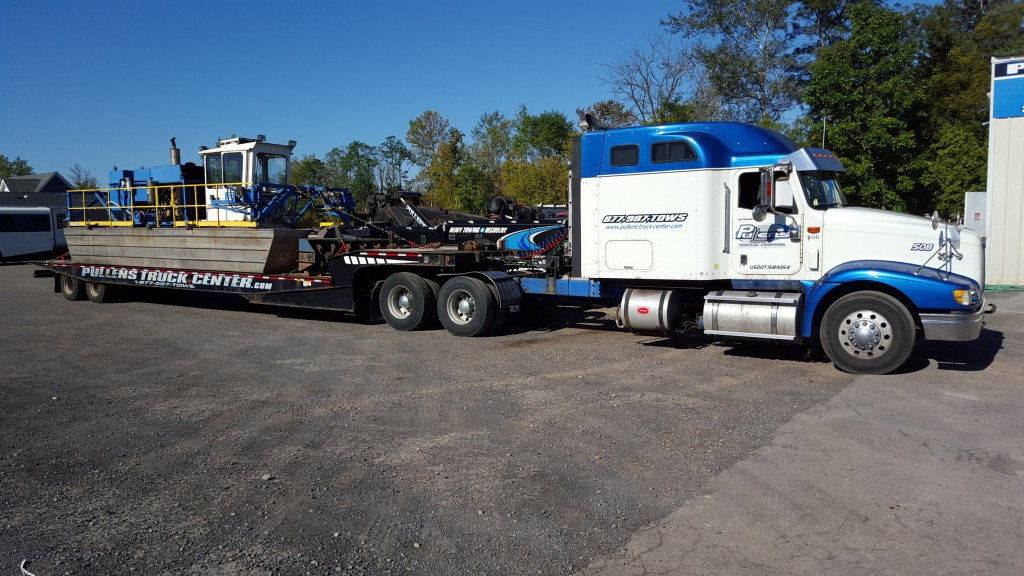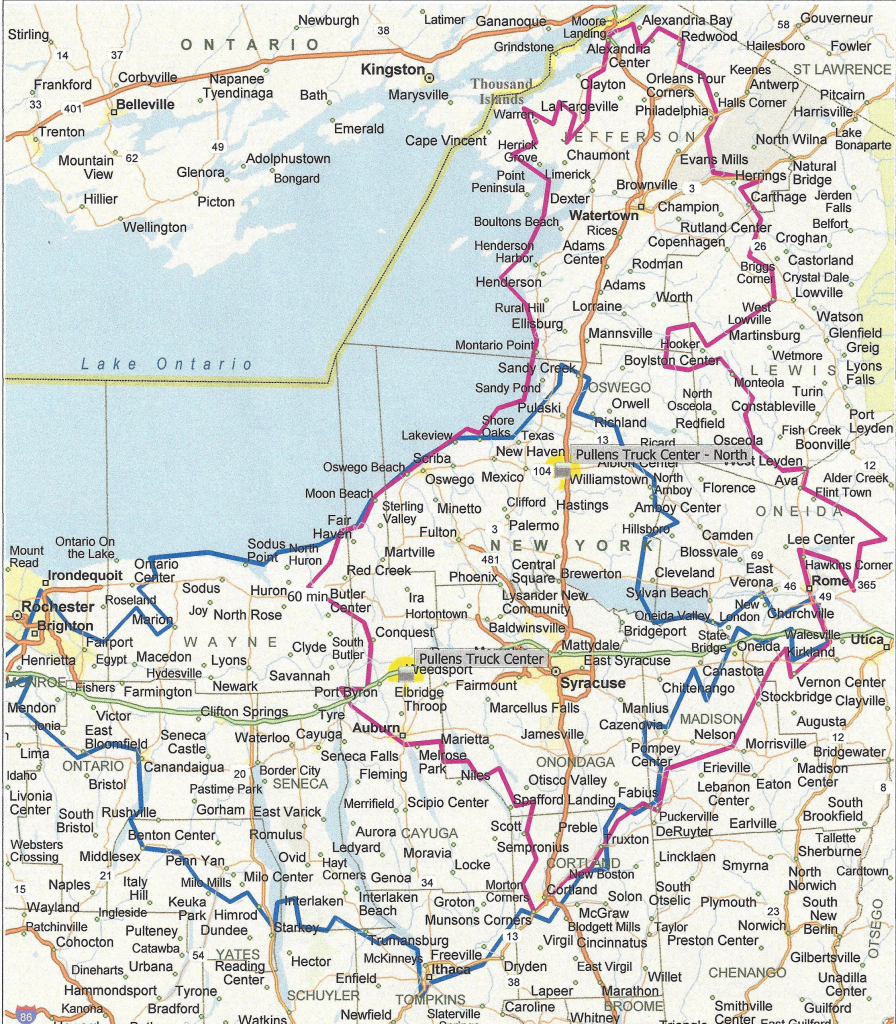 24 Hour Emergency Towing & RecoveryAt Pullens Truck Center we offer 24 hour towing & recovery for Central New York. If you need emergency service contact us immediately. 24 hours a day, 7 days a week. We have a fleet of heavy duty tow trucks to assist a wide rage of vehicles such as:
Semi Trucks and Trailers
Box Trucks
Dual Axle Vehicles
Trailers
RV's
Busses
Pick Up Trucks
Vans – custom and standard
SUVs
Cars
Motorcycles
Coverage Areas
At Pullens Truck Center each of our locations services a 50 mile radius. See the map below for more location details.
Blue = Pullens Weedsport LocationCall Now For Emergency Towing and Recovery Services
We'll need the following information:
Your Location
Type of accident – mechanical break down, flip, off road recovery, ect.
Year, Make and Model of your vehicle
Passenger count to provide adequate transportation
Pricing
Because every emergency towing situation is different, we do not provide emergency quotes until we are at the scene of the accident to assess the damage and labor required.
Safety First
Safety is our number one concern for you and our employees. All of our employees complete educational training programs by the TRAA (Towing and Recovery Association of America) as well as in house training programs. We also perform background check on all of our employees before adding them to the Pullen's team. Our goal is to provide you with the best service possible.
Please
DO NOT
leave your vehicle. We recommend that you stay inside (unless there is water, fire and/or smoke) and
call 911 immediately
. Next call us and we'll get a tow truck out to you ASAP. We work with all law enforcement and emergency response agencies.
AAA Affiliation
For AAA customers, Pullens Truck Center is an affiliated AAA member.
About Our Impound Lot
Our impound lot is located on premises and is locked and under 24/7 video surveillance. You can rest easy knowing that your vehicle is safe and secure.
Vehicle Release Information
Vehicles are available for pickup
Monday – Friday: 8am – 4:30pm
. Later times available upon request, with an additional fee. You will need to present the following legal documents to take possession of your vehicle from our impound lot:
Photo ID
Legal instrument(s) identifying ownership, ex- title or registration
Valid form of payment for the total amount due for prior services
If for some reason the legal owner is not available to pick up the vehicle, a power of attorney form will be required to completed.
Scheduled Towing & Hauling
Need something moved? We can assist you with local and long distance towing and hauling for any vehicle or specialty equipment you need transported.
Pricing
At Pullens we will provide you with a towing quote immediately over the phone. Call with the following information on your vehicle:
Year
Make
Model
Location of the vehicle currently
Location where you would like to be transported to
Dates and/or time requests
If your vehicle is not drive-able, a brief explanation on what's wrong mechanically